WHY SESTA LAB?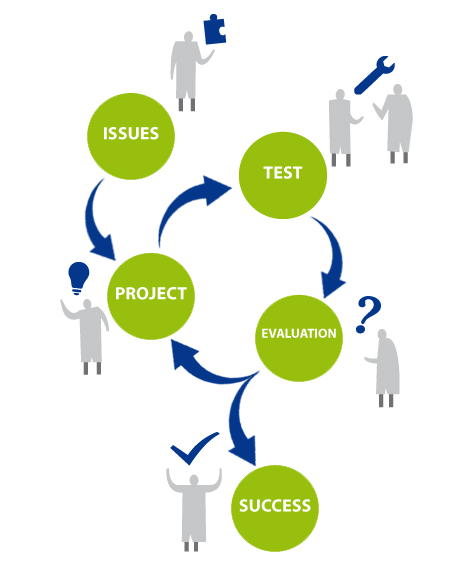 Design new burners and optimize the existing ones are typical ISSUES. Generally the goals include the increase of efficiency, machine reliability, flexibility in the use of fuels and the reduction of emissions, fuel use, need for maintenance interventions and costs.
The customer focus on innovative technical solutions to plan a PROJECT. The following operating conditions to be tested are shared with Sesta Lab.
Sesta Lab and the Customer perform the TEST with the greatest possible flexibility.
The customer EVALUATE results. Sesta Lab can support on demand.
A positive results carry on to a SUCCESS otherwise a project optimization is required.
INNOVATION AND INCREASE
A strong reorganization phase is ongoing. It includes 7.5M investment, a growing team strategy and a cost optimization.
A new air heater system, a new compressor line and a heater for methane are the most significant technical innovations. The team is the result of a wise mixture between the experienced historical team and new young hired people.
INVESTMENTS
New air heating system capable to reach 520°C for the entire mass flow of 50 kg/s.
Upgrade is currently available.
New combustion air line in addition to the current.
It allows to reach 50 kg/s (current 35 kg/s) at 24 bar. The new line will allow
30 bar pressure and 18 kg/s of air mass flow.
Upgrade is currently on going.
New fuel heater and filter system for natural gas.
It will allow a flow of 1,5 Kg/s instead of current 1Kg/s.
Upgrade is currently on going.
New spare rotor for the HP centrifugal compressor.
Upgrade is currently on going.
Feasibility study to build a new test cell for new generation Turbo-Expanders.
Upgrade is currently on going.
Feasibility study for Optical Analysis (hot and cold tests).
Upgrade is currently on going.
8 engineers will be hired in 1 year.
GALLERY